If you are here and you own a VW, you qualify. Send me a photo and a description and I will add it to the page. Special arrangements can be made to mail me a photo if you don't have access to a scanner or digital camera. Send me an e-mail and let me know, but pre-scanned photos would be preferred.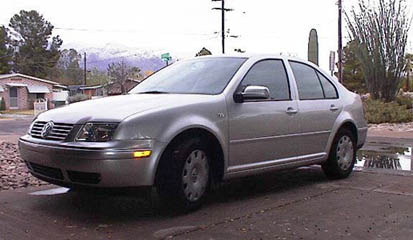 Yes, this is a shameless plug of my own vehicle, but its my page dammit! I took this picture shortly after I purchased the car on January 23, 1999. The tinted windows and my stereo system are the only upgrades I have completed to date. I have a Kenwood Excelon CD player, Infinity 50X4 amp, and a 12" JL Audio subwoofer. I left the factory speakers as they were, and the system sounds great. I plan on adding 16" TSW VX1 wheels and Dunlop Sport 8000's soon. If anyone has a hot connection at the Tire Rack, let me know.

Jeff (your humble host) -- a4vwpage@tripod.net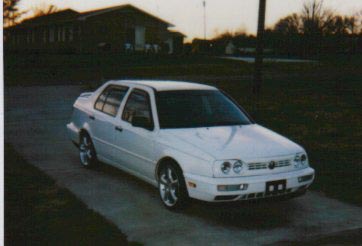 I am an avid Volkswagen owner. I own an 80 pickup, 83 GTI, 90 Wolfsburg Jetta, and a custom 96 Jetta Trek, which by the way, is for sale. My 96 Jetta has a Strictly Foreign dual projection head lamp kit, a bitch to install, 1.75 in lowering via Jamex springs, with Jamex upper front strut brace, 17-7.5 MSW type 45 wheels shod with 205/45 Sumitomos, cat back stainless Neuspeed exhaust, Neuspeed p-chip, drop in K&N filter, tinted windows, vent shades, roof mount antenna, 2.0 power plant with 5 speed tranny, and 40,000 trouble free miles thanks to proper service and Mobil 1 synthetics in motor/trans. I baby this ride! Thanks for listening.

Keith Lowery -- doktor@usit.net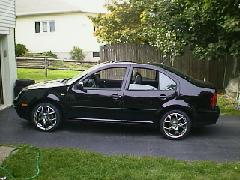 I own a 99.5 Jetta IV GLS VR6. I just put on some TSW VX-1's myself! WOW what a difference!! I love it and so does everyone I meet! I have some Yokohama A520's on it, 205/45/17! So far I have only changed the air intake to the Neuspeed P-flow. It has made a little difference in pickup and alot of difference in the sound. It growls big time!! I plan on putting in the Wetterauer chip in around Christmas! They claim it will take it from 174hp to 190hp! I had an 85' GTI some yearsd ago and have been looking for theright VW ever since... until now! I love this vehicle!

Joe Black -- jblack-1@rcn.com
Hope you like it. I bought it in March 2000. Check out this link for more pictures and information. http://angelfire.com/yt2/ytwokgtiglx/index.html

Roger Moore -- rmoore@01019freenet.de

Kudos to Roger! This guy is a VW enthusiast!!

The following is a list of mods done to date:

Engine:

-K&N panel filter

-DTM rear exhaust tip 70 x 160mm

Interior:

-In-dash Single CD player

-CD changer

-Radio moved to top DIN slot

-European Headlight Switch

-DRL's disabled

-VW rubber floor mats

Exterior:

-Kamei Sport Grill

-Kamei Headlight spoliers

-European Golf V6 4-Motion Front and Rear Lower Valances painted to match body color

-European VW V6 emblems Front and Rear

-Folia Tec Tint (Midnight Reflex)

-Rear Hella Red and Clear Tail Lamps

Wheels:

-Audi S3 wheels

-Pirelli 6000 225/45/17 91W

-15mm rear wheel spacer w/ hub centric

Suspension:

-Neuspeed Sport Springs

Future Mods:

-GIAC Chip Tunning

-Sway bars front and rear.

-Upper strut brace

-Cat back SS exhaust

-?supercharger, when available?

My name is John and i am from Augusta Georgia I own a 2000 Jetta. I put a New $500 dollar Kenwood cd player the one with the picture movement and the dolphins jumping, Pioneer souround sound processor, Crunch 800 watt amp, Kenwood 200 watt amp, coustic crossover, Blaupunkt 2-12's Overdrive series Dual Voice coil. I have also put some 18 inch wheels on it (Focals) tires 225/40/18 Getting ready to sell my rims and put some 18inch Focal F5's on it SOON! so be on the lookout for the updated picture. I have more plans will inform you on them later. I also just recently did something really cool to the taillights gotta see it i will send a updated photo when i get one. See Ya at NOPI Nationals.........;)

John -- reds355022@aol.com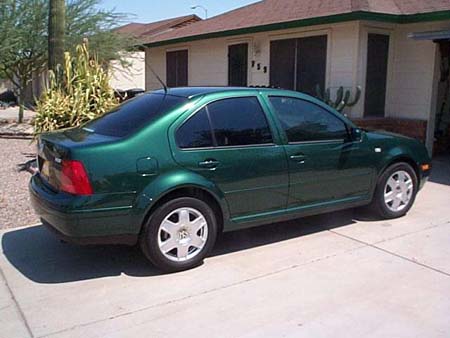 It took a year, but I located this car one state over in Albuquerque, flew in, and drove it back to Arizona. I've had it but one week, and I just love it. I installed the factory in-dash Cd player myself, despite the dealer telling me that they would have to reprogram the Monsoon radio to recognize it, (just enter the four digit security code when you hook the battery back up, and it all works) and had the windows tinted. I also drilled the floor mat snaps and added screws to keep them from sliding forward, as the snaps are an uncharacteristically bad design. It already has the 16" wheels, so I don't feel a need to upgrade there, and I'll add a K&N air filter in the stock housing (if they make one for this car, I haven't checked yet) and that will be it for mods. The car is so quiet and has such good manners, that I don't want to compromise any of them with chips, exhaust, or the like.

Mike S. -- mschnur@amug.org